I wonder if the moon is currently blue since I only seem to post once in a blue moon. When I first started out, I really couldn't imagine that anyone would ever visit my blog, and comments were things I could only hope to get. So it's simply amazing to me every time I receive a comment or get a new follower. I LOVE getting comments, who doesn't, and I want to thank everyone so much for all of your kindness, it really makes my day! :)
I'm in love with punchneedle!!!! This is my first try (maybe I should have chosen something simpler for my first time???). It's certainly not perfect, but it was a learning experience and I know things I would do differently next time. One thing I need to do is outline things better, especially where one dark section meets another. Actually the outlining looks better than this picture shows. Punchneedle seems to be rather forgiving to novices. :) Still, I think I'm going to need lots and lots and lots of practice. :D
The First Thanksgiving ~ With thy Needle & Thread
I managed to spend a little time with my first love when I was able to put my newest addiction down. I'm not usually a lover of alphabets, but something about this one appealed to me. The thread color is Waterlilies Kelp by Caron and in real life it is so pretty. I'm really hoping that stubborn crease disappears. Sometimes I wonder how long some of the fabric I buy has been laying around.
Simple Harvest ~ With Needle & Thread by Blackbird Designs
and this was a complimentary chart from
Plum Pudding Needleart
(Blessed Be) that I changed a little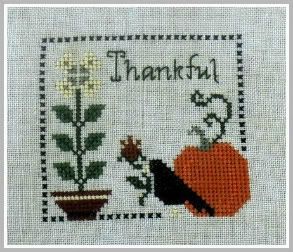 Leaving you with two of my four cat loves--
It would probably put some people off (including my son) :) but Hobbs, aka the firecracker, frequently graces us with her presence at the dinner table. Reminds me of one of my favorite (tear jerker) movies, Guess Who's Coming to Dinner. I love Katherine Hepburn and Spencer Tracy together.
Here is Poopsie aka Little Miss Nasty, You Creep, etc., etc. :D seeking some warmth from the sun since someone who shall remain nameless went to bed without setting the heat to come back on ~ must have been in shock from actually reaching 73 degrees yesterday!
After reaching the end of this post, I have a headache from trying to upload these pictures. Might be one of the reasons I don't post more frequently. :)
Until next time, take care!